Books
"We've been teaching our kids what to think for decades,
even centuries, these eBooks will teach them how to think!"
.
"My Thinking Mind" eBook Series
RRP $9.95 per eBook

**Special** get the whole set for just $9.95 

($49.75 value!)

We are currently giving these ebooks away for free
as we want them to help as many kids as possible.

Complete the form below and we will email you the download link. Enjoy!


.
I Am Me
Book 1
Demonstrates the importance of self awareness by acknowledging thoughts, feelings, imagination, actions and environment as valid parts of one's self.
.
Be Happy
Book 2
Teaches positive thinking by showing how happy and unhappy thoughts affect our emotions for good or sad.
.
My Mind And Me
Book 3
Encourages responsibility by showing that you can choose what you think. What you think becomes what you feel and what you feel determines how you act.
.
Decide What You Want
Book 4
Teaches that you can decide what you want by paying attention to what you feel when you think about things.
.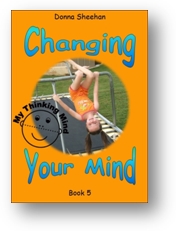 Changing Your Mind
Book 5
Apply what you've learned to take positive action and grow your self image deliberately.